The following letter from Dean Toni-Marie Montgomery appears in the Spring 2021 Fanfare magazine.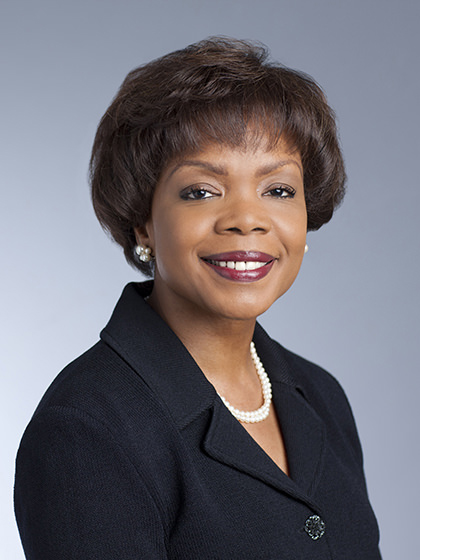 Over the past several months, faculty have shared with me many examples of the excellent achievements of Bienen School students during the COVID-19 pandemic. I applaud our students for their extraordinary efforts through these uncertain times.
The pandemic has brought challenges to all of us. Students are experiencing the loss of regular participation in ensembles and concerts. Performance faculty and alumni—including members of professional orchestras and ensembles—are left with fewer outlets to share their talents with audience members. Music scholars have limited opportunities to conduct research due to travel restrictions and safety precautions that limit in-person collaborations. Yet despite many difficulties, our community has demonstrated remarkable flexibility and resilience. I am proud of our faculty for adapting to new modes of teaching and continuing the school's important mission of educating the next generation of artist-scholars.
Without a doubt, all aspects of the Bienen School's operations have been disrupted by the pandemic. Beginning last spring and throughout the summer, our staff and administrators worked tirelessly within the school and with many offices across the University to prepare for a return to campus. Music performance instruction has presented many unique situations that required developing specialized safety restrictions. We are incredibly fortunate to have the high-quality facilities and state-of-the-art technical capabilities of the Ryan Center for the Musical Arts. It is difficult to imagine how we could have responded to the pandemic in the outdated Music Administration Building.
As we continue to respond to the pandemic, topics regarding diversity, equity, and inclusion (DEI) have emerged as central areas of focus across our school, the University, and the nation. Last summer, the school publicly expressed its solidarity with our Black students, faculty, staff, and alumni and the entire Black community. In June, school administrators received a petition from Bienen Students Expecting Change. Along with the school's department chairs and associate and assistant deans, I met with the group in the fall to discuss the petition and share existing and planned DEI activities.
As the first African American and first female dean of the Bienen School and as a performer of music of African American composers, I understand and agree with the students regarding the importance of representation and visibility in classical music. We must work as a community to incorporate more voices and contributions of diverse groups into our music curricula and public events—a goal I have pursued throughout my tenure as dean.
We have already made progress at the Bienen School in the musicology area, which launched a new undergraduate core curriculum in fall 2019. One goal of the revised curriculum is to provide students with a more inclusive and more diverse representation of classical music. The musicology faculty will regularly update these courses, which have been well received by students.
A school-wide project during the current academic year involves creating videos featuring art songs and chamber music by Black composers. Voice students will perform the songs, and musicologists and guest presenters will provide scholarly background information on the works and composers. These videos will be posted on the school's website. In April, I will moderate a virtual discussion on Black art songs with professors Louise Toppin and Willis Patterson of the University of Michigan School of Music, Theatre & Dance.
In addition, Bienen faculty have been working both independently and collaboratively to develop DEI initiatives for their studios and classrooms. Many of our instrumental studios are studying repertoire of diverse composers and requiring inclusion of these composers in degree recitals. Conducting faculty have recently hosted guest speakers for virtual DEI-related discussions. I am committed to promoting and supporting these ongoing initiatives throughout the school, and I look forward to sharing more information about our progress in the coming months.
Our society's return to "normal" life—and the specifics regarding when and how live music performances will resume—remains uncertain. However, the absence of in-person concerts and events over the past year has proven how crucial they are to our humanity and how essential they will be to restoring normalcy in a post-pandemic world. I am confident that the Bienen School of Music will be an important part of the healing process, reconnecting our communities through music performances and scholarship.