Curtis Moore '95 is an Emmy nominated musician, composer, songwriter, and producer. As one half of the songwriting duo Mizer & Moore with Northwestern School of Communication alumnus Thomas Mizer '93, Moore wrote five original songs for the third season of The Marvelous Mrs. Maisel. The duo received an Emmy nomination for Outstanding Original Music and Lyrics for their song "One Less Angel."
Recipients of the prestigious Fred Ebb Award for excellence in musical theatre songwriting, Mizer & Moore's stage credits include commissions from Lincoln Center and the Williamstown Theater Festival. Named a Richard Rodgers Award Finalist, their romantic mystery Triangle premiered at TheatreWorks Silicon Valley to rave reviews and went on to receive six Theatre Bay Area Awards, including "Outstanding World Premiere Musical." Moore's credits also include Venice at The Public Theater, Nora Ephron's Broadway play Lucky Guy starring Tom Hanks, Sam Mendes' acclaimed world-tour of Richard III, and Todd Solondz's film Palindromes.
What made you choose the Bienen School of Music?
I started at NU as an electrical engineering major but switched to music in my sophomore year. I chose Northwestern because I knew that I wanted to go to a school that had a strong music program that existed in harmony with other fields.
Which professor(s) influenced you most during your time at the Bienen School of Music?
Professor Alan Stout and Professor Amnon Wolman were both such fantastic inspirations and champions of my out-of-the-box writing.
Tell us about a particular experience that impacted you during your time at the Bienen School of Music.
I always enjoyed practicing in the "Beehive," which I believe is now not used anymore, but it was right next to my dorm, Chapin. I would spend hours there with friends singing and playing songs, and I think this was where I really learned that collaborating was my favorite way to work.
What lessons did you learn at Bienen that have continued to resonate with you in your career?
Northwestern provided me with many opportunities both in and outside of class to hone the skills that I would use throughout my career. The people I met while working on the many extracurricular projects, performances, and productions are still some of the same people I work with today. We've all grown together in our careers, and there is an unofficial Northwestern entertainment group that is still going strong in all facets of the field: TV, film, and theater.
Top three of your Desert Island Discs (any genre)
Leonard Bernstein's Mass
John Adams Nixon In China
Original Broadway cast album of Sondheim's Sweeney Todd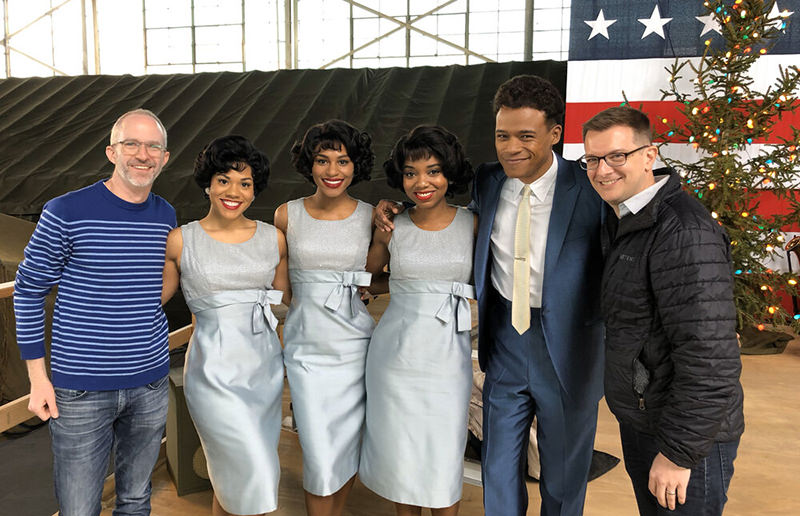 Moore (left) on set of Maisel. Learn more about Moore's work on The Marvelous Mrs. Maisel.