Caitlin Finnie '16 received her degree in voice and opera with a certificate in musical theatre. She currently serves as the Christine Daaé alternate on the world tour of The Phantom of the Opera, with recent performances in Taipei, Taiwan, and Daegu and Seoul, South Korea. Finnie previously performed in the Les Misérables national tour as an ensemble member and the Cosette understudy. Her credits also include The King and I (Lyric Opera of Chicago) and The Valkyrie Suite and Carman (Pittsburgh Opera Theatre)
What made you choose the Bienen School of Music?
I chose Bienen because I wanted a conservatory-like experience, but I knew that I wanted to explore other fields in the liberal arts as well. I didn't want to feel stuck studying only classical music—but I wanted top notch classical training. I'm very glad I chose Northwestern because I was able to study so many different subjects during my time there and I became friends with people outside of the music world. I also think I would've had a difficult time pursuing both opera and musical theatre at many other schools, but I'm so glad that I was able to get that crossover education at Northwestern
Which professor(s) influenced you most during your time at the Bienen School of Music?
Pamela Hinchman, my voice teacher of four years and now friend, influenced me the most during my time at Northwestern. She is such a wise, optimistic, and hardworking mentor. She taught me to make my own opportunities to perform and to never stop learning and trying to grow -- as an artist and also spiritually. She fueled my love for travel and she always supported my love for both the classical and musical theatre worlds
Tell us about a particular experience that impacted you during your time at the Bienen School of Music.
One of the most meaningful experiences I had at Bienen was my senior recital. I believe Pamela had encouraged me to put on recitals in my sophomore and junior years as well, so I didn't have to adhere to the language requirements for my senior recital. I decided to create a program all in French, which is my favorite language to sing. It was challenging organizing a full recital while also working my first job as an ensemble member in the Lyric Opera of Chicago's production of The King and I, but I practiced in the Lyric's practice rooms on my breaks and memorized and practiced mentally while on the Metra. In the end, I was very proud of my work and had fun singing chansons and some duets from Romeo et Juliette—a dream opera of mine—with my friend, Alfredo Jimenez '17. I was also lucky to have been a part of the first class to have their senior year in the Ryan Center and use the new Galvin Recital Hall, which provided the perfect dreamy Chicago skyline as a backdrop to my dreamy, Monet-inspired repertoire
What lesson(s) did you learn at Bienen that has continued to resonate with you in your career?
Never stop learning, never stop trying to grow as an artist, and never stop trying. I learned to create opportunities for myself at Bienen and I learned to explore and to incorporate other passions into my life.
Top three of your Desert Island Discs (any genre)
This is a really difficult question, but here is what comes to mind:
Fly, by The Chicks
A recording of Puccini's La Boheme
Dirty Computer by Janelle Monáe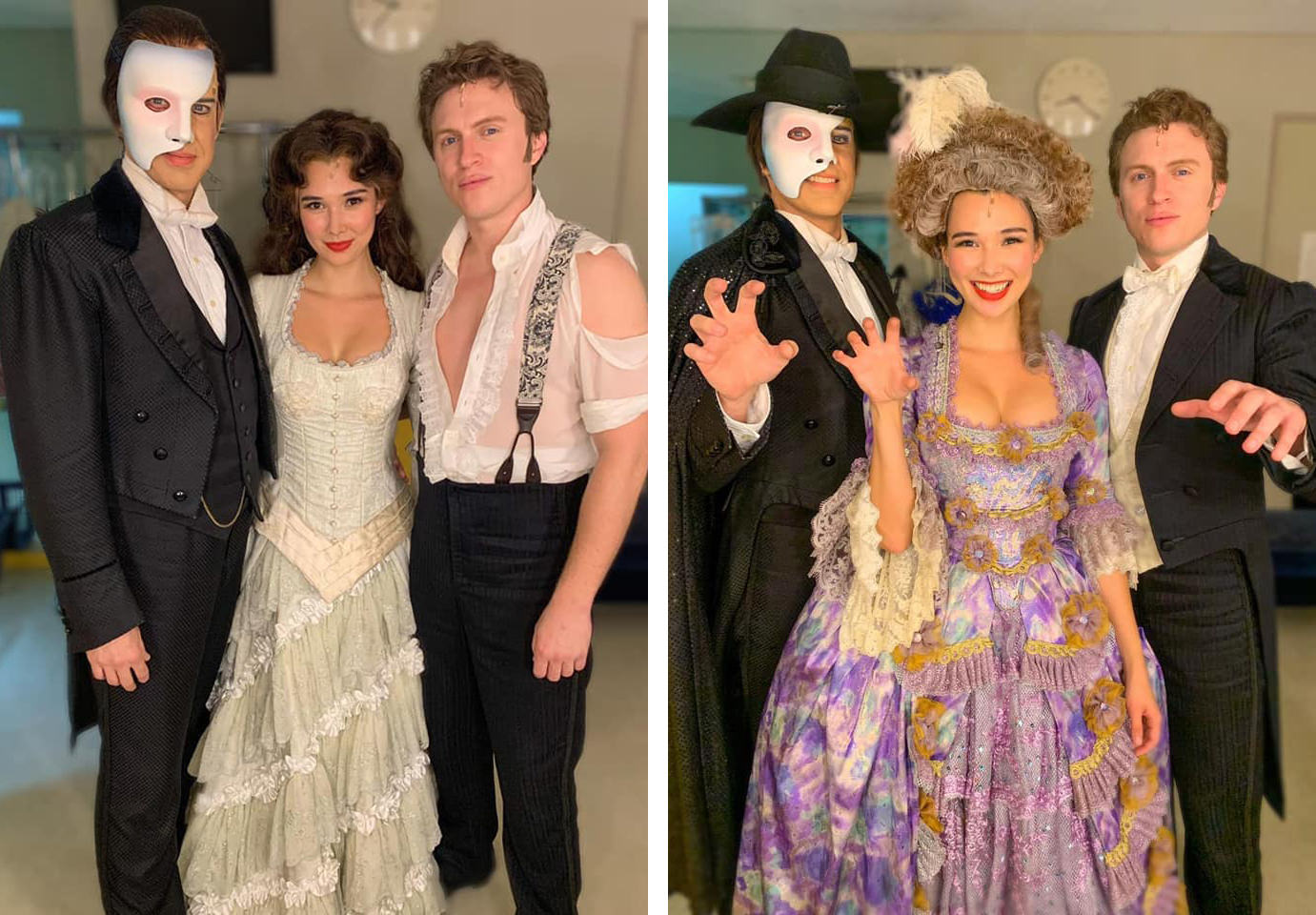 Finnie with fellow Phantom castmates and Bienen School alumni Michael Gillis '99 (Phantom) and Matt Leisy '03 (Raoul).