Bienen Ensembles
University Singers
The Impermanence of All Things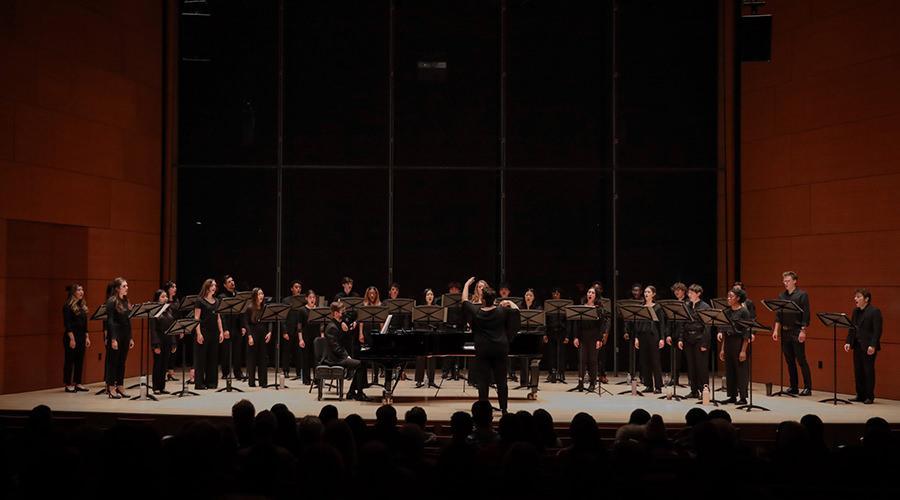 Friday, June 3, 2022 at 7:30pm
Galvin Recital Hall
A.J. Keller, conductor; Victoria Marshall and Tim Lambert, graduate assistant conductors; Charles Foster, collaborative keyboardist
Northwestern University Singers present a meditation on the experience of finitude within the temporal landscape and the fleeting nature of Being. Repertoire will include works by Nørgård, Lang, Britten, Thorvaldsdottir, Ešenvalds, and McFerrin.
Anna Thorvaldsdóttir, Heyr þú oss himnum á
Per Nørgård, Solen er rund
Heinrich Isaac, Innsbruck, ich muss dich lassen
Bobby McFerrin, The 23rd Psalm
Benjamin Britten, selections from Five Flower Songs: "The Succession of the Four Sweet Months" and "The Evening Primrose"
Benjamin Britten, "The Cuckoo!" from Friday Afternoons
Maria Löfberg, selections from Hildegard Motets: "O choruscans lux stellarum" and "O virtus Sapientie"
David Lang, evening morning day
C. V. Stanford, The Blue Bird
Thomas A. Dorsey (arr. Arnold Sevier), Precious Lord
David Lang, last spring
Ēriks Ešenvalds, There Will Come Soft Rains
Tickets are $6 for the general public and $4 for students with valid ID.
Sold Out
---
Mary B. Galvin Recital Hall
Address
70 Arts Circle Drive
Evanston, IL 60208
United States
About
Located in the Ryan Center for the Musical Arts, this 400-seat hall features a 40-foot glass wall offering views of Lake Michigan and the Chicago skyline. Undulating walls of Forest Stewardship Council–certified wood, covered with a thin layer of African moabi wood, provide optimal acoustics, and the hall is equipped with state-of-the-art sound and video equipment for recording.