Bienen Ensembles
SOLD OUT: Jazz Small Ensembles
Composition 1301: Nouvelle Musique—Student Originals for Jazz Small Ensemble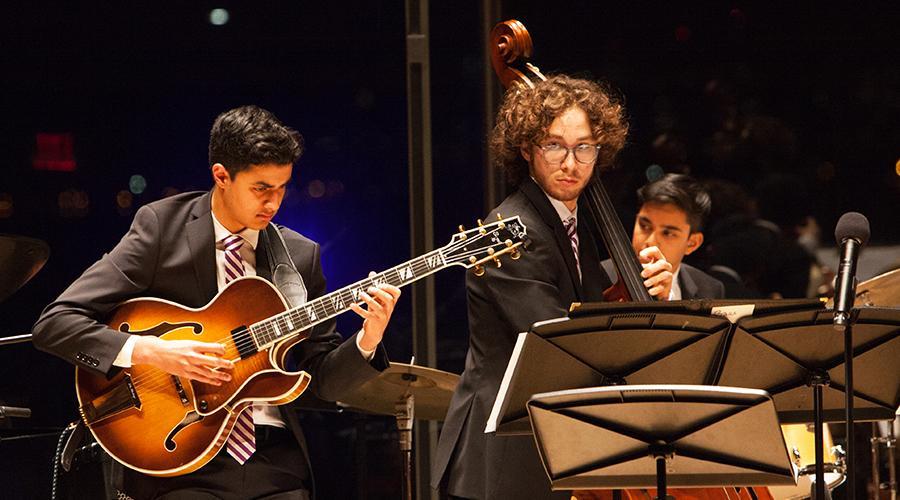 Monday, November 15, 2021 at 7:30pm
McClintock Choral and Recital Room
After studying the work of jazz's most respected composers and performers, the students of the jazz studies program embrace the opportunity to add their musical voices to the canon. This concert features new original compositions prepared by members of the ensembles.
Darius Hampton Ensemble
Daniel McGrath, trumpet; Ernie Wang, alto saxophone; Luca Moretti, piano; Alexander Carroll, bass
Ernie Wang, The Medicine to Boredom
Daniel McGrath, Parachord
Luca Moretti, Phases
Kevin Fort Ensemble
Ben Chaddha, trumpet; Abram Collier, baritone and tenor saxophones; Dylan McGaharn, piano; Evan Diethrich, bass; Daniel Zitomer, drums
Daniel Zitomer, Slowly Backing Away
Ben Chaddha, The Trial
Abram Collier, As the Cardinal Flies
Evan Diethrich, Sweet Sun
Dylan McGaharn, Loose
Sold Out
---
David and Carol McClintock Choral and Recital Room
Address
70 Arts Circle Drive
Evanston, IL 60208
United States
About
Located in the Patrick G. and Shirley W. Ryan Center for the Musical Arts, this rooms seats 120 and offers a flexible space for choral rehearsals, small ensemble performances, and student recitals.