Bienen Ensembles
SOLD OUT: Jazz Small Ensembles
The Music of Herbie Hancock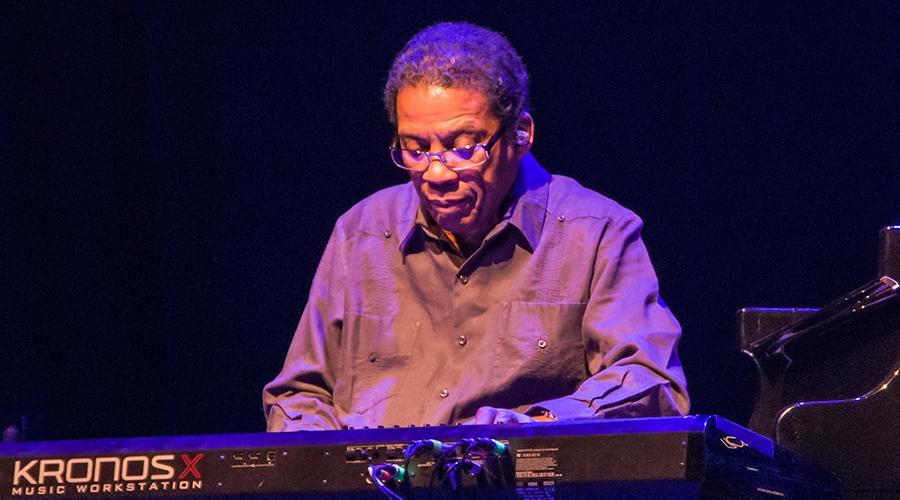 Monday, October 18, 2021 at 7:30pm CDT
McClintock Choral and Recital Room
This performance is SOLD OUT.
Victor Goines and Joe Clark, conductors
As a pianist and composer, Herbie Hancock and his music represent the pinnacle of excellence in jazz. This evening of music celebrates the genius of the National Endowment for the Arts Jazz Master through the lens—and pens—of the students of the jazz studies program.
Free Event
Selections by the Joe Clark Ensemble
Sean Deegan, alto and tenor saxophones
Shanth Gopalswamy, guitar
Clayton Eshleman, piano
Austin Aldrich, bass
Jack Shurtleff, drums
"Driftin" (arr. Clayton Eshleman)
"Empty Pockets" (arr. Austin Aldrich)
"The Maze" (arr. Shanth Gopalswamy)
"Chan's Song" (arr. Sean Deegan)
"One Finger Snap" (arr. Jack Shurtleff)
Show More
Selections by the Victor Goines Ensemble
Mikey Ahearn, trumpet and flugelhorn
Albert Kuo, alto and soprano saxophones and flute
Joe Nedder, trombone
Peter Hoerenz, piano
Jesse Lear, bass
Darsan Swaroop Bellie, drums
"Oliloqui Valley" (arr. Peter Hoerenz)
"Maiden Voyage" (arr. Mikey Ahearn)
"Textures" (arr. Darsan Swaroop Bellie)
"The Pleasure is Mine" (arr. Joe Nedder)
"Riot" (arr. Jesse Lear)
"Watermelon Man" (arr. Albert Kuo)
Show More
---
David and Carol McClintock Choral and Recital Room
Address
70 Arts Circle Drive
Evanston, IL 60208
United States
About
Located in the Patrick G. and Shirley W. Ryan Center for the Musical Arts, this rooms seats 120 and offers a flexible space for choral rehearsals, small ensemble performances, and student recitals.
Watch Live Streaming from McClintock Choral and Recital Room