Festivals & Series
Quartet-in-Residence: Dover Quartet
Winter Chamber Music Festival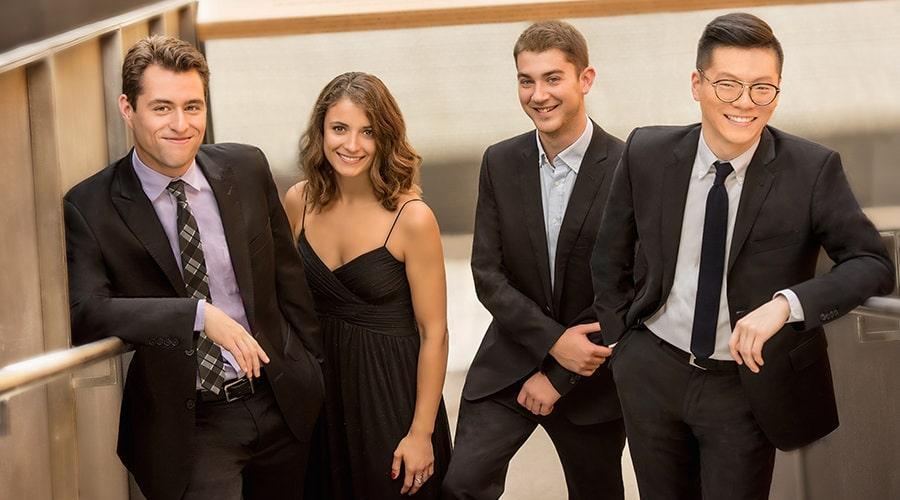 Friday, January 11, 2019 at 7:30pm
Pick-Staiger Concert Hall
Joel Link and Bryan Lee, violin; Milena Pajaro-van de Stadt, viola; Camden Shaw, cello
"I've remarked on how blessed we are to be living in a golden age of string playing. The Dover Quartet now takes that to the next level, platinum." –Fanfare
Winner of a Cleveland Quartet Award, an Avery Fisher Career Grant, and the 2013 Banff International String Quartet Competition, the Dover Quartet has become one of the most in-demand string quartets in the world. The quartet's 2017-18 season comprised over 100 concerts throughout North America and Europe, including appearances at the Kennedy Center, Philadelphia Chamber Music Society, and Library of Congress. The group undertook three complete Beethoven quartet cycles, including the University at Buffalo's famous "Slee Cycle," and released their sophomore album, Voices of Defiance: 1943, 1944, 1945. In summer 2018, the quartet appears at Chamber Music Northwest, the Rockport Chamber Music Festival, Norway's Rosendal Chamber Music Festival, the Grand Teton Music Festival, and the Santa Fe Chamber Music Festival.
The Dover Quartet's residency is generously supported by the Elizabeth F. Cheney Foundation.
The Ripple of Time
Pyotr Ilyich Tchaikovsky, Quartet No. 3 in E-flat Minor, Op. 30
Mason Bates, From Amber Frozen
Franz Schubert, Quartet in G Major, D. 887
Single tickets are $30 for the general public and $10 for students with valid ID.
Sold Out
---
Pick-Staiger Concert Hall
Address
50 Arts Cir Dr
Evanston, IL 60208
United States
About
Pick-Staiger is a 989-seat hall located in the Arts Circle on the Evanston campus of Northwestern University. The main lobby entrance for concerts is on the west side of the building (revolving and regular doors). Since its inception in 1975, the hall has functioned as both a classroom and performance facility for Bienen School of Music performing ensembles, faculty recitals, festivals, and professional guest artists.