Festivals & Series
Olga Kern, piano
Skyline Piano Artist Series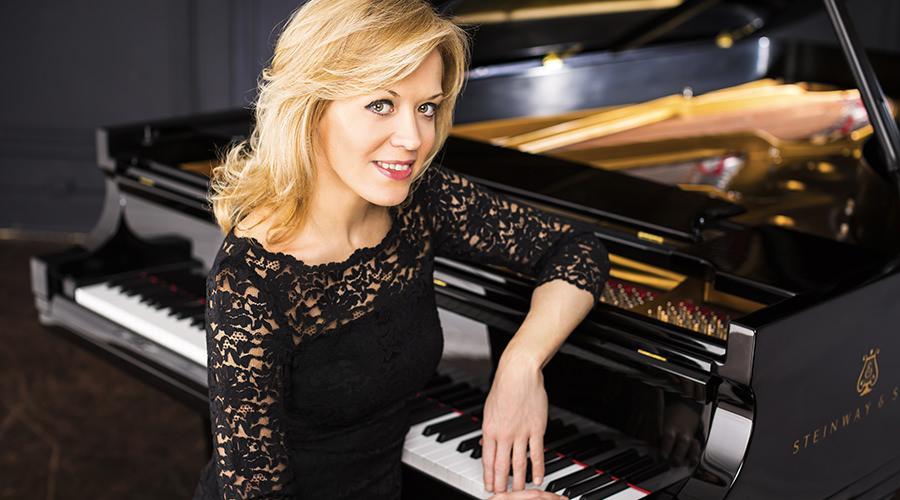 Saturday, February 2, 2019 at 7:30pm
Galvin Recital Hall
Tickets to this performance are currently sold out.
"Her electricity at the keyboard is palpable, and though she generates from the music itself, as it flows through her fingers it takes on fresh voltage that is unmistakably hers." –The Washington Post
Russian-American pianist Olga Kern jump-started her US career with a historic Gold Medal win at the Van Cliburn International Piano Competition, the first woman to win the prize in over 30 years. First prize winner of the Rachmaninoff International Piano Competition at the age of 17, Kern is a laureate of numerous international competitions. In the 2017-18 season, she served as artist in residence to the San Antonio Symphony and appeared with the Madison Symphony, Rochester Philharmonic, Copenhagen Philharmonic, and Austin Symphony, among others, and gave solo recitals in Germany, Italy, Australia, and throughout the US. Her 2004 recording of Rachmaninoff's Corelli Variations and other transcriptions was nominated for a Grammy Award, and she was featured in the award-winning documentary about the 2001 Cliburn Competition, Playing on the Edge. This performance is followed by a subscriber reception.
Domenico Scarlatti, Three Sonatas
Ludwig van Beethoven, Piano Sonata No. 21 in C Major, Op. 53 ("Waldstein")
George Gershwin, Three Preludes
George Gershwin, "Fascinating Rhythm" from Seven Virtuoso Etudes
Sergei Rachmaninoff, Moments musicaux, Op. 16: No. 4 in E Minor
Sergei Rachmaninoff, Morceaux de salon, Op. 10: No. 3 ("Barcarolle")
Sergei Rachmaninoff, Morceaux de fantasie, Op. 3: No. 4 ("Polichinelle")
Alexander Scriabin, 2 Etudes, Op. 42: Nos. 4 and 5
Mily Balakirev, Islamey, Op. 18
Single tickets are $30 for the general public and $10 for students with a valid ID.
Sold Out
---
Mary B. Galvin Recital Hall
Address
70 Arts Circle Drive
Evanston, IL 60208
United States
About
Located in the Ryan Center for the Musical Arts, this 400-seat hall features a 40-foot glass wall offering views of Lake Michigan and the Chicago skyline. Undulating walls of Forest Stewardship Council–certified wood, covered with a thin layer of African moabi wood, provide optimal acoustics, and the hall is equipped with state-of-the-art sound and video equipment for recording.