Bienen Ensembles
Northwestern University Symphony Orchestra and Choirs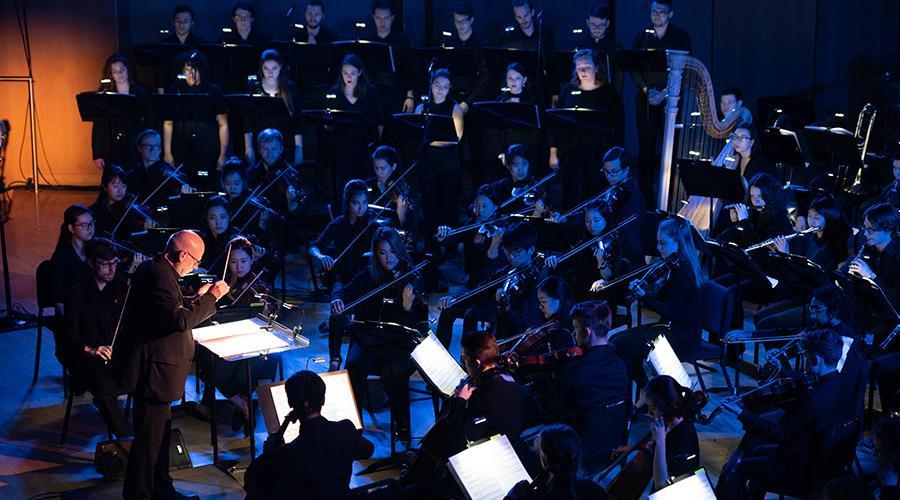 Saturday, April 30, 2022 at 7:30pm CDT
Pick-Staiger Concert Hall
Preconcert conversation with Christopher Cerrone and Donald Nally at 6:30 p.m. in the McClintock Choral and Recital Room.
This performance will also be presented as a live stream.
Donald Nally, conductor
The Last Message Received is inspired by the blog of the same name. In 2014, 16-year-old Emily Trunko created a space for people to anonymously share their final communications with loved ones. Thousands of posts later, composer Christopher Cerrone and librettist Stephanie Fleischmann collaborate to create a sometimes dramatic, sometimes intimate, and sometimes joyous tapestry of these plaintive communications. This commissioned world premiere is answered with one of the great Requiems of the 20th century, that of Maurice Duruflé, in his version for full orchestra.
Christopher Cerrone, The Last Message Received
Maurice Duruflé, Requiem, Op. 9
Tickets are $12 for the general public and $6 for students with valid ID.
Sold Out
Program Note from Conductor Donald Nally
When we first programmed Maurice Duruflé's Requiem for May 2020, our intention was to venture back into historical music to be reminded of how we've arrived here, today. Certainly, there are few works that represent better the foundations upon which contemporary music rests than this Requiem, which employs ancient plainsong as the building block to every aspect of the work. Even when the chorus is not singing the venerable, indestructible chants of the Mass for the Dead, the orchestra takes up the tunes and expands their meaning through counterpoint and harmony. The work references over a millennium of evolving European music, but it doesn't strike the ear as historical or musicological; it is an organic, nuanced attempt to capture the melancholy, fear, and hope that accompany our response to death—the response of "those left behind."
Typical of how my brain works, stuck in the present, I couldn't help but imagine a new companion piece to Duruflé's rumination on death and eternity. So, we invited Chris Cerrone (whose brilliant The Branch Will Not Break was the last work BCE sang prior to the pandemic shutdown) to compose a piece for Duruflé's orchestral forces. Chris was inspired by a Tumblr page he found called "the last message received," a collection of short submissions offering tiny glimpses into the lives of others—a now unsurprising practice in our social-media-saturated world. Each "last message" represents a unique, complex moment in a life: a relationship breakup, a professional parting of ways, an unexpected death, suicide. The beauty of the concept is that we do not know who or where the authors are. We cannot help but conjure an image of them, based on their words; we wonder about their stories. Chris invites a connection to these stories through his primarily minimal music, making space for us to embody the words as if our own. His stark, disciplined musical language allows us to hear ourselves say or think these words, to understand them, and to recognize their stories in ourselves. But that austere sound world gives way in the end to a disarmingly familiar chord progression: a place we've all been, many times, singing equally familiar words we recognize as sometimes difficult to say, sometimes left unsaid, always welcome: "thank you."
In our concert, those thank-yous serve as the portal to the Requiem. Requiems are intended to be specific—to memorialize, bless, and commit a person who is no longer with us. Yet, it's unclear for whom we sing this Requiem today. Is it for the authors of the final messages just heard? For those lost to the pandemic? For those gone early in unnatural, unnecessary deaths in Ukraine, or before them in Syria, Afghanistan, Charleston, Orlando? Or is it a Requiem to civility, unity, and common causes?
Perhaps the answer lies in the words of the final movements.
May the angels sing you into paradise…
receive you and with Lazarus,
once a poor man,
may you have eternal rest.
Let's face it: we are human. And humans hold hope. If there is not a heaven, then we at least have song, here, from whence we project our voices into the unimaginably ancient heavens, with hope. And, if there is a heaven, then perhaps the friends and relatives who have gone before us are right now welcoming new community members from Ukraine, embracing them, and joining them in singing songs at such great volume as to be equally unimaginable as the vastness of the heavens themselves. Singing songs of despair. Singing songs of hope. 
Show More
Program Note from Composer Christopher Cerrone
I first came across the blog The Last Message Received sometime in late 2015. I was living in Rome, feeling homesick for America, when I found this curious blog where people were able to submit and post their final communications about events as mundane as an adolescent breakup or as devastating as the death of a loved one.
I became intrigued—obsessed, perhaps—with this blog, followed it from abroad, and dreamt of a musical composition wherein words from this repository might be musicalized. The challenge of making a composition out of the spontaneous expressions of strangers was particularly appealing to me; most of the texts I had set before were highly formal lines of poetry or prose.
Several years later, I approached Donald Nally with this blog and he suggested we make a piece for choir and orchestra with Northwestern, whom I knew to be superb; I eagerly agreed. Soon after, Yale University came on as the co-commissioner.
When the time came to write the piece, however, I realized that the unique wonder of these spontaneous expressions needed to be balanced with poetic architecture. I asked my friend and oft-collaborator Stephanie Fleischmann to work with me to build a structure. Words from both Stephanie and the blog fuse seamlessly into a libretto that forms an emotional journey from anger to devastation to hope.
The first movement, I Want You to Know, imagines a protagonist typing variations on a single text message and then deleting it over and over again until a single simple missive is sent: "I just need this time to myself."
The second movement, You Are Not the One, is a series of pushes and pulls wherein lines like "do you still need me?" are in counterpoint with "you are dead to me."
The third movement, Keep Dreaming, is a series of languorous thoughts—maybe melodramatic, maybe serious—expressing the after-effects of lost relationships.
The fourth movement, We Could Have Been Something, returns to the mode of the indecisive text message as an imaginary protagonist types and deletes the word "we" until their thought is complete: "We're not going back to the way we were."
The fifth movement, Blink Twice, is a desperate plea to a sick family member to not die.
The final, and sixth, movement, I Don't Know Why You Love Me But Thank You, gives thanks to those we have lost for the time that we once had together.
***
I wrote the piece in early 2020 before the Covid-19 pandemic, before having lost my father in a hospital in a manner eerily similar to the fifth movement. I understand that the emotional journey in these movements might now seem painful to some. And yet it is my hope that this piece can operate as a space where the many difficulties we have all experienced in these trying times can be cathartically explored—and a space where my feelings of gratitude can be shared. The Last Message Received is dedicated to my wife, Carrie Sun.
Show More
---
Pick-Staiger Concert Hall
Address
50 Arts Cir Dr
Evanston, IL 60208
United States
About
Pick-Staiger is a 972-seat hall located in the Arts Circle on the Evanston campus of Northwestern University. The main lobby entrance for concerts is on the west side of the building (revolving and regular doors). Since its inception in 1975, the hall has functioned as both a classroom and performance facility for Bienen School of Music performing ensembles, faculty recitals, festivals, and professional guest artists.