Bienen Ensembles
Northwestern University Symphony Orchestra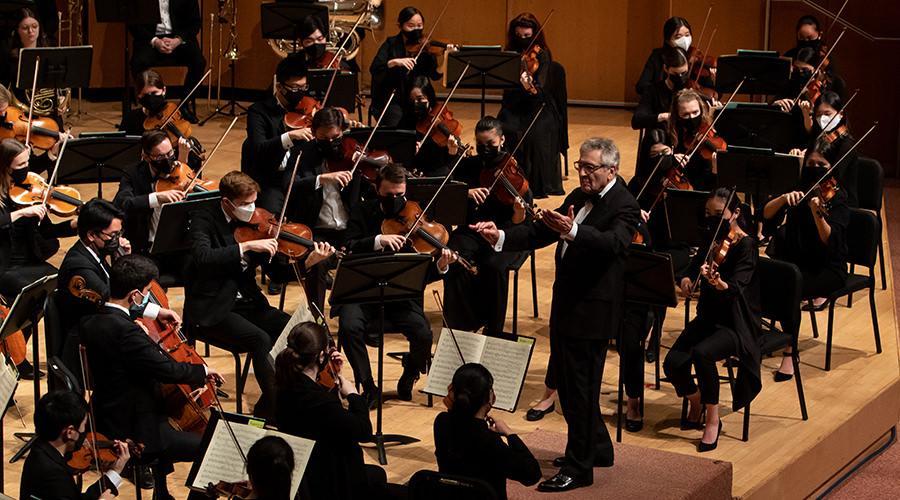 Sunday, June 5, 2022 at 7:30pm CDT
Pick-Staiger Concert Hall
Victor Yampolsky, conductor
In the final concerts of his 38 years at the Bienen School of Music, Victor Yampolsky conducts Gustav Mahler's Symphony No. 9, closing a season reflecting on the composers that shaped his career. Beloved by audiences and conductors alike, Mahler's Ninth is often interpreted as his farewell to the world, though it may also be heard as a paean to life's fleeting joys, and a pondering of eternity. Sweeping in scope, the symphony references Beethoven, Strauss, and Mahler's own music, concluding with a deeply poignant finale.
Mykhailo Verbytsky (arr. Bohdan Reshetilov), State Anthem of Ukraine
Gustav Mahler, Symphony No. 9
This program is also being offered (in-person and live streamed) on Saturday, June 4.
Tickets are $8 for the general public and $5 for students with valid ID.
Sold Out
---
The Victor Yampolsky Fund for Conducting and Orchestral Opportunities
To honor Maestro Yampolsky's extraordinary career at the Bienen School of Music, we invite you to make a gift to help launch The Victor Yampolsky Fund for Conducting and Orchestral Opportunities, an endowed fund that will provide support to Bienen students for audition and professional development expenses related to conducting and/or orchestral opportunities.
Show More
---
Pick-Staiger Concert Hall
Address
50 Arts Cir Dr
Evanston, IL 60208
United States
About
Pick-Staiger is a 972-seat hall located in the Arts Circle on the Evanston campus of Northwestern University. The main lobby entrance for concerts is on the west side of the building (revolving and regular doors). Since its inception in 1975, the hall has functioned as both a classroom and performance facility for Bienen School of Music performing ensembles, faculty recitals, festivals, and professional guest artists.