Bienen Ensembles
Live Stream: Contemporary Music Ensemble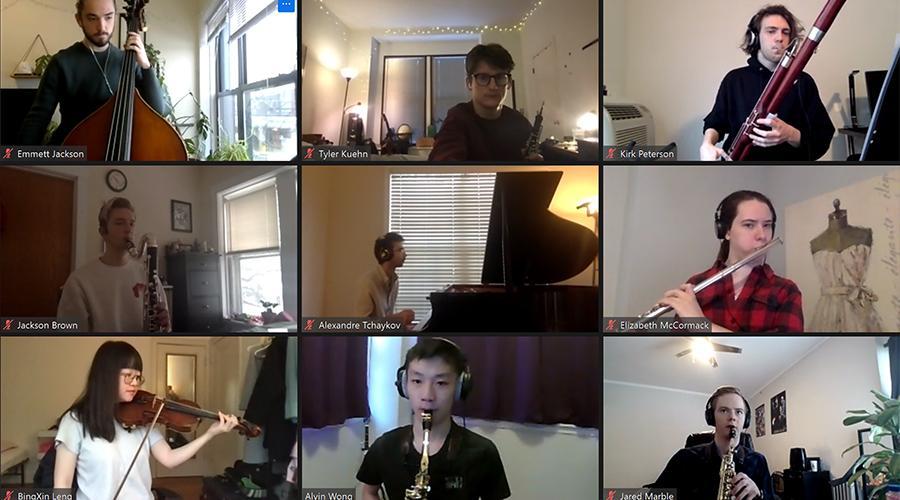 Friday, February 5, 2021 at 7:30pm CST
Online
This performance will be presented as a live stream. Visit https://www.music.northwestern.edu/live after 7:20 p.m. CST to view the performance.
Alan Pierson and Ben Bolter, co-directors
inti figgis-vizueta, guest composer
Katinka Kleijn, special guest cello
The Contemporary Music Ensemble presents two works exploring the role of the individual within a collective setting. Contemporary music pioneer Pauline Oliveros described From Unknown Silences as "an invitation to make independent sounds," with as much variation in tone, duration, and silence between pitches as each player desires—rendering every individual performance of her work a unique meditation. inti figgis-vizueta joins the ensemble for a conversation about her work, praised by the Washington Post as "haunting" and "raw, scraping yet soaring." She calls her Primavera crown "an encounter between conflicting ethics of my work—the role of individual imagination and expressive possibility against the large canvas of the chamber orchestra." Joining the ensemble is Chicago Symphony Orchestra cellist Katinka Kleijn, hailed as "Chicago's first lady of the cello" by TimeOut Chicago magazine.
Pauline Oliveros, From Unknown Silences
Alan Pierson, director
inti figgis-vizueta, Primavera crown
Ben Bolter, conductor
Free Event
---