Bienen Ensembles
Harp Faculty and Studio Recital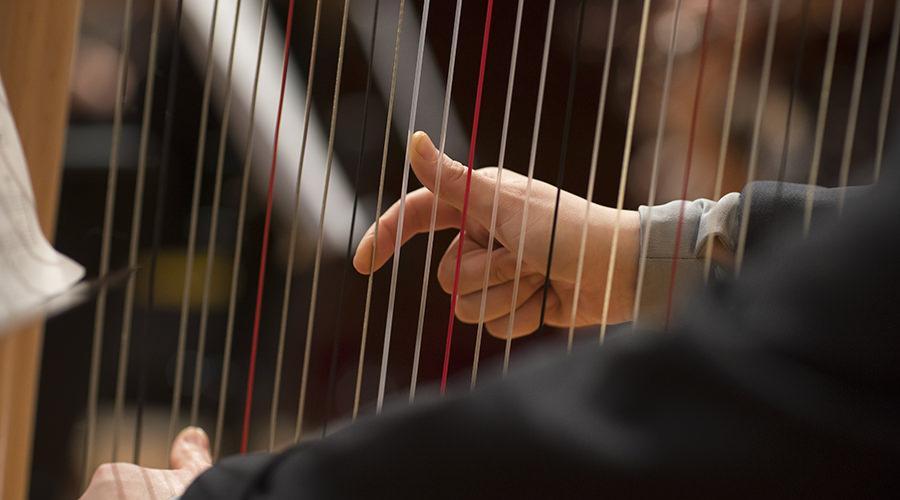 Monday, May 23, 2022 at 7:30pm
McClintock Choral and Recital Room
Marguerite Lynn Williams, Melody Cribbs, Atti Liu, Natalie Man, Amy Shlyak, Emily Stone, and Ksenia Sushkevich, harp
Solo, ensemble, and chamber performances featuring the Bienen School harp studio and faculty lecturer Marguerite Lynn Williams, principal harpist of the Minnesota Orchestra and the Lyric Opera of Chicago Orchestra.
Solo Repertoire:
Jean-Michel Damase, Sicilienne variée
Marcel Grandjany, Dans la forêt du charme et de l'enchantement, Op. 11
Mikhail Ippolitov-Ivanov, Nokturne
Franz List (ed. Renie), Le rossignol
Giovanni Battista Pescetti (trans. Marguerite Lynn Williams), Sonata No. 6 in C Minor
Germaine Tailleferre, Sonate pour harpe
Marcel Tournier, Étude de concert ("Au matin")
Harp Ensemble Repertoire:
Pyotr Ilyich Tchaikovsky (arr. Marguerite Lynn Williams), Waltz No. 9, Op. 40
Jacques Offenbach (arr. Erb), Barcarolle from The Tales of Hoffmann
Alfredo Rolando Ortiz, Llano
Tickets are $6 for the general public and $4 for students with valid ID.
Sold Out
---
David and Carol McClintock Choral and Recital Room
Address
70 Arts Circle Drive
Evanston, IL 60208
United States
About
Located in the Patrick G. and Shirley W. Ryan Center for the Musical Arts, this rooms seats 120 and offers a flexible space for choral rehearsals, small ensemble performances, and student recitals.