Festivals & Series
Christopher Taylor, piano
Part of the Skyline Piano Artist Series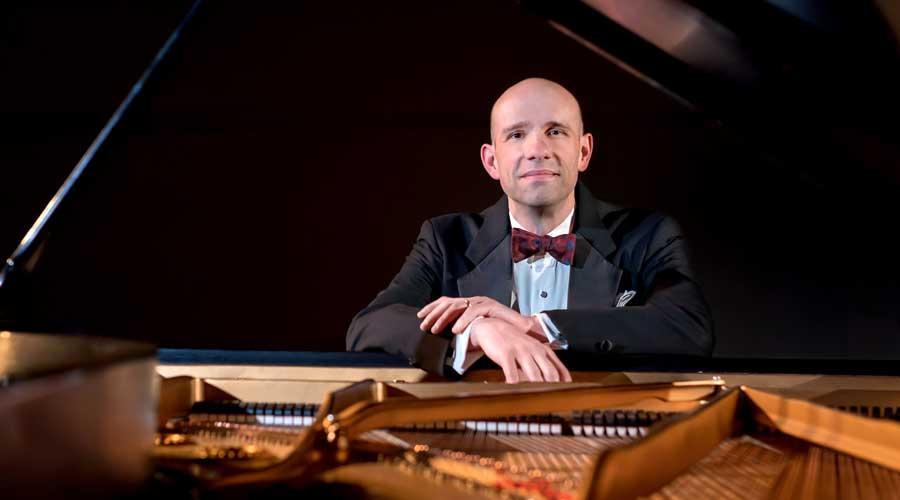 Saturday, February 12, 2022 at 7:30pm CST
Galvin Recital Hall
"Those who know the pianist Christopher Taylor tend to speak of him in the hushed, reverent tones typically reserved for natural wonders if not the otherworldly," raves the New York Times. Taylor's expansive concerto repertoire runs from Bach to Vaughan Williams, and he regularly performs the Liszt transcriptions of Beethoven's symphonies. Recent season highlights include engagements at Carnegie Hall, the Kennedy Center, the Detroit Chamber Music Society, the Ravinia Festival, and the Music Academy of the West. Taylor has appeared as soloist with the New York Philharmonic, the Los Angeles Philharmonic, the symphonies of Colorado, Detroit, St. Louis, Atlanta, Houston, and Indianapolis, as well as the Boston Pops. 
Alexander Scriabin, Andante from Étude in C-sharp Minor, Op. 2, No. 1  
Alexander Scriabin, 8 Études, Op. 42 
Alexander Scriabin, Étude in E Major, Op. 49, No. 1 
Alexander Scriabin, Étude, Op. 56, No. 4 
Alexander Scriabin, 3 Études, Op. 65 
Ludwig van Beethoven (trans. Franz Liszt), Symphony No. 5 in C Minor, Op. 67 
Sold Out
---
Mary B. Galvin Recital Hall
Address
70 Arts Circle Drive
Evanston, IL 60208
United States
About
Located in the Ryan Center for the Musical Arts, this 400-seat hall features a 40-foot glass wall offering views of Lake Michigan and the Chicago skyline. Undulating walls of Forest Stewardship Council–certified wood, covered with a thin layer of African moabi wood, provide optimal acoustics, and the hall is equipped with state-of-the-art sound and video equipment for recording.