Festivals & Series
Anne Waller, Mark Maxwell, Richard Graef, and Charles Pikler
Segovia Classical Guitar Series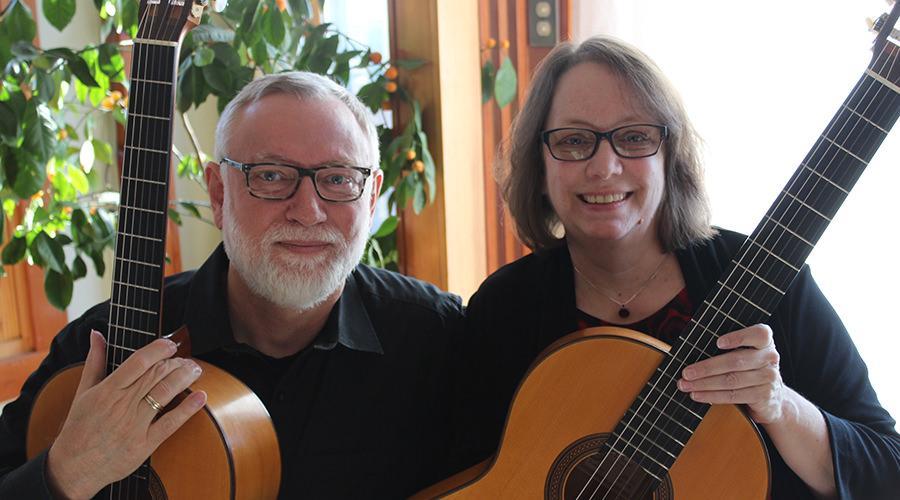 Friday, March 1, 2019 at 7:30pm
Galvin Recital Hall
As the Waller and Maxwell Guitar Duo, Bienen School faculty guitarist Anne Waller and DePaul University faculty guitarist Mark Maxwell have appeared at the Phillips Collection in Washington, DC; Guitar Foundation of America festivals; Buffalo, New York's Rantucci Festival; and Dame Myra Hess Memorial Concerts in Chicago. They have performed extensively in Italy, where they were praised for "their absolutely sublime touch" (La Sicilia) and for "strong playing, but at the same time delicate and clean" (Libertà). Chicago Symphony Orchestra assistant principal flutist Richard Graef and Charles Pikler, longtime CSO principal viola, join the duo for an evening of exquisite chamber music.
Mauro Giuliani, Two Rondos for Two Guitars, Op. 66: Rondo No. 2 in F Major and Rondo No. 3 in C Major
Wenzeslaus T. Matiegka, Notturno, Op. 21 for Flute, Viola, and Guitar
J. K. Mertz, Mazurka; "Am Grabe der Geliebten" and "Ich Denke Dein" from Nänien Trauerlieder; Unruhe; Tarantelle
Johannes Brahms (arr. Anne Waller and Mark Maxwell), Intermezzo, Op. 118, No. 2
Johannes Brahms (arr. John Williams), Theme and Variations, Op. 18b
Sold Out
---
Mary B. Galvin Recital Hall
Address
70 Arts Circle Drive
Evanston, IL 60208
United States
About
Located in the Ryan Center for the Musical Arts, this 400-seat hall features a 40-foot glass wall offering views of Lake Michigan and the Chicago skyline. Undulating walls of Forest Stewardship Council–certified wood, covered with a thin layer of African moabi wood, provide optimal acoustics, and the hall is equipped with state-of-the-art sound and video equipment for recording.