Festivals & Series
Aizuri Quartet
Winter Chamber Music Festival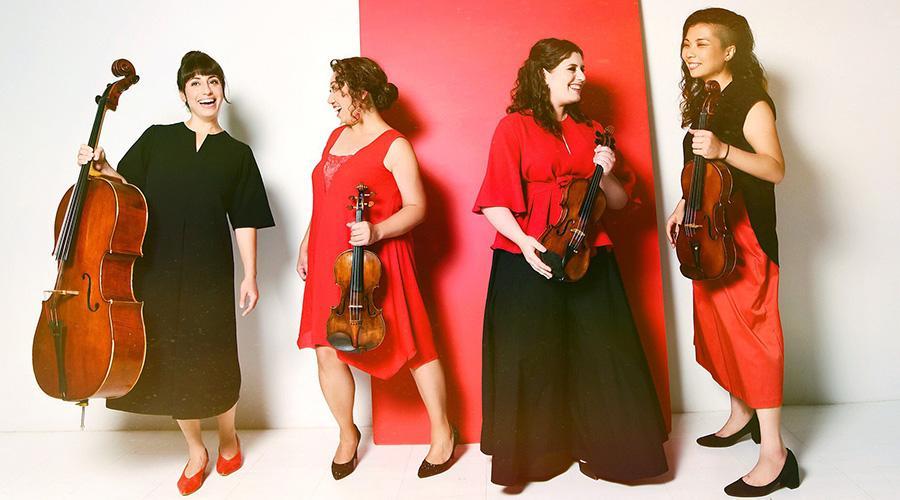 Friday, January 17, 2020 at 7:30pm
Pick-Staiger Concert Hall
"These limber and luminous performances by the Aizuri Quartet, in music written specifically for the group by young composers, proves that the 250-year-old string quartet formula remains vibrant and vital."
—Tom Huizenga, NPR Music's Best Classical Albums of 2018
The Aizuri Quartet was awarded the Grand Prize and the CAG Management Prize at the 2018 M-Prize Chamber Arts Competition, along with top prizes at the 2017 Osaka International Chamber Music Competition in Japan, and the 2015 Wigmore Hall International String Quartet Competition in London. Its debut album Blueprinting, released by New Amsterdam Records, was nominated for a 2019 Grammy Award. The group was the 2017-18 MetLiveArts String Quartet-in-Residence at the Metropolitan Museum of Art, and its previous residency engagements include the Caramoor Center for Music and the Arts, the Ravinia Festival's Steans Music Institute, and Philadelphia's Curtis Institute of Music. The quartet has performed throughout North America and Europe, as well as Japan, Mexico, Chile, Costa Rica, and Abu Dhabi. Their commissions and premieres include new works by Pulitzer Prize winner Caroline Shaw, Lembit Beecher, Paul Wiancko, Yevgeniy Sharlat, Gabriella Smith, Rene Orth, and Alyssa Weinberg.
Hildegard von Bingen (arr. Alex Fortes), Columba aspexit
Carlo Gesualdo (arr. Alex Fortes), "O tenebroso giorno" and "'Io parto' e non più dissi"
Conlon Nancarrow, String Quartet No. 3
Joseph Haydn, String Quartet in B Minor, Op. 64, No. 2
Ludwig van Beethoven, String Quartet No. 14 in C-sharp Minor, Op. 131
Winter Chamber Music Festival subscriptions are now available. Single tickets, on sale November 15, are $30 for the general public and $10 for students with valid ID.
Sold Out
---
Pick-Staiger Concert Hall
Address
50 Arts Cir Dr
Evanston, IL 60208
United States
About
Pick-Staiger is a 989-seat hall located in the Arts Circle on the Evanston campus of Northwestern University. The main lobby entrance for concerts is on the west side of the building (revolving and regular doors). Since its inception in 1975, the hall has functioned as both a classroom and performance facility for Bienen School of Music performing ensembles, faculty recitals, festivals, and professional guest artists.